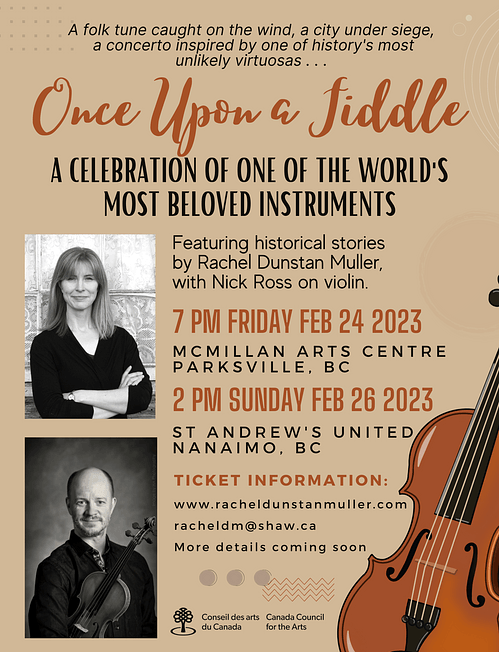 Rachel Dunstan Muller has spent the last decade entertaining listeners of all ages in schools, libraries, theatres, concerts and festivals. She travelled to Northeastern Quebec as part of Canadian Children's Book Week and was a featured guest of the Grapevine Storytelling Series in Washington D.C. She is the author of four juvenile novels: When the Curtain Rises, Ten Thumb Sam, The Solstice Cup, and Squeeze, and the producer of two podcast series: Hintertales: Stories from the Margins of History for adults, and Sticks and Stones and Stories for young listeners. She is a member of the Around Town Tellers and Storytellers of Canada - Conteurs du Canada.
Nicholas Ross performs regularly with the Vancouver Island Symphony and maintains a busy teaching schedule at the Nanaimo Conservatory of Music. As an orchestral performer, he has performed with the Victoria Symphony, Thunder Bay Symphony, Sudbury Symphony (Principal Second Violin) and North Bay Symphony (as Principal Second Violin and Acting Concertmaster). As well as being featured as a soloist with the Elmer Iseler Singers, he recently presented "Bach in the Harbour" and a recital at the Old School House in Qualicum. He studied both violin and trumpet at the University of Ottawa.
NOTE: This show contains intense historical material, and is best suited for ages 13+.
History like you've
never heard it
- a folk tune caught on the wind
- a city under siege
- the world's most unlikely virtuosa
Storyteller Rachel Dunstan Muller
and Violinist Nicholas Ross
celebrate the power of music
and the resilience
of the human spirit
as they bring some of the violin's
most extraordinary stories to life.